Custom Design
Create the piece worth having for a lifetime
Wedding Rings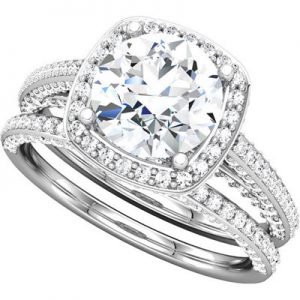 Whether you are looking for an engagement ring for that special proposal you have planned, or re-designing your existing wedding ring, we can help you build the perfect one! At Luxe Jewellery, we feature rings in many designs including solitaires, three stone, and halo. We want your ring to communicate exactly how you feel about each other.
1. Show us the design
2. Customize it until you love it: pick the metal color, the shape and size of your diamond
3. Watch it come to life!
It's that simple. At Luxe, the possibilities are endless, and we strive to help you build a ring that lasts a lifetime.
Fashion Rings or Pendants
Looking to create something from your imagination or from a Google image you stumbled upon? We can help! Whether it's a sapphire ring or diamond earrings, we can create it. All we need from you is an image.
FAQ
a) Is custom work more expensive?
Not necessarily. It depends on a case by case basis. We will always give you our honest opinion regarding its cost.
b) How long does custom work take?
It takes approximately 3 weeks. During the holiday season, the wait can be even longer. We suggest giving yourself ample time for custom work pieces.
c) What is the deposit amount to start the work?
Deposits are 30% to 50% of the total quoted price.
d) Can I see the design before I finalize it?
Unfortunately, no. We are able to send you a computer image after it has been re-created on the designer's software using your specifications. You will only be able to see it on once it is fully made.
e) Which metals and stones do you work with?
For custom work, we work with silver, gold, and platinum. In terms of stones, we are able to work with all semi-precious and precious stones.
f) Can I bring in my stones and gold to work with?
For old gold, you can trade it in. Please read here.
For stones, it depends. We may be able to work with your stones. We would have to see what you have and can advise further.
g) Can it be returned?
Unfortunately, custom work pieces cannot be returned. Custom work is recommended for clients who are 100% positive that they love a specific design.
h) Are there payment plans available?
Yes, learn more here.
For more information, please email us: info@luxejewellery.ca